Fall 2020 Newsletter
November 13, 2020
BEEF RAFFLE
GRANTS
LEADERSHIP GRANTS
SCHOLARSHIPS
JOHN JONES MEMORIAL 
Dear Family and Friends,
What a year it has been. This pandemic has brought new meaning to AJ's famous line: "So, what else?"
In spite of the challenges we are each facing this year, AJ's enduring line reminds us that there is always hope and possibility on the horizon. 
That's exactly what we've set our sights on through this pandemic.
Although we had to cancel our biannual event and cherish the thought of being back together in person with family and friends, we've been busy awarding grants and collaborating with other organizations.
Let's take a look at how AJ's vision to generously lift others up is thriving even during Covid (and how you can be a part of keeping the vision alive!):
JOIN US IN THE BEEF RAFFLE:
November 5th – December 2nd
AJ's friends have generously donated proceeds from four, half beef packages to be raffled off! This is high quality, organic grass-fed Montana beef.
"We wanted to do something, and it's something AJ would do," were the words I heard when approached. CLICK HERE:  http://abf.betterworld.org/raffles/1-2-beef for the chance to win and support the foundation, too. A huge thanks to his friends!   
GRANTS:
Interactive ways for kids and parents to connect
Wise Wonders Science and Discovery Museum: The Foundation provided a $50,000 matching grant. This grant will provide funding for the development and construction of two new exhibits:
1. An interactive helicopter exhibit for kids (and parents, too!). What fun! 
2. A calming cave for parents and children to explore ways to improve their bond and bring regulation to their nervous system. Such a creative idea for this critical part of life: safe and secure connection.
Click here: . https://wisewonders.org/  to check out the museum and take advantage of the matching donation.    
SCHOLARSHIPS:
Carrying out his love for others to experience flying
Rocky Mountain College :
1. An AJ Blain Memorial Aviation Scholarship Fund was established. Beginning in 2020 and every year thereafter, an upper level aviation student will be awarded this scholarship, based on academic merit and need. What a way to carry out AJ's love for flying and how much he wanted others to experience it!
2. A Dan Meyer Memorial Aviation Scholarship Fund was established. Similar to the fund above, in 2020 and each year beyond, one will be awarded to an upper level aviation student. We're grateful to honor Dan in this way. 
Get this: Recently Flori (Dan's wife) shared that she had a dream about Dan and AJ sharing a good laugh over something that happened up there. Apparently (in the dream), Dan and AJ talked all the time. Imagine AJ talking all the time (no surprise!).
3. An educational scholarship was awarded to a young aviator pursuing his aviation Education.  
LEADERSHIP GRANTS:
I just want everyone to be healthy
1. The Foundation awarded 22 grants for individuals to participate in local Townsend Leadership Programs (TLP). Growth is such a huge part of what we stand for and what AJ valued. He often quipped, "I just want everyone to be healthy."
2. An organizational grant to the Junior League of Billings for their upcoming Montana Women's Leadership Conference: 
https://juniorleagueofbillings.org/montana-womens-leadership-conference/.
3. One grant to an individual non-profit leader to engage in leadership coaching. 
MEMORIAL: John Jones
Someone he could go to no matter what
We lost our dear friend John this year. John generously donated his time and talents to help establish the AJ Blain Foundation.
https://billingsgazette.com/lifestyles/announcements/obituaries/john-timothy-jones/article_d58375b5-cd88-5a4f-9736-e4aced637626.html 
We miss our friend and grieve with his family. We're privileged to have received memorials to the foundation in his honor. 
In case you didn't know, John and Darla are the parents of AJ's friends, Sean and Nate, whom he met ski racing. John and Darla were those parents AJ felt he could go to no matter what kind of trouble he found himself in. 
THANK YOU FOR YOUR CONTINUED SUPPORT!
As you can see, Covid and the challenges of life have not brought us down. We are more committed than ever to seeking possibilities to grow and support each other and our community. Thank you!
We are grateful for each of you and appreciate your support as we continue to seek "what else" might be possible.
Leadership Event Success – Thank You!
November 30, 2019
In November, the AJ Blain Foundation hosted another successful Leadership Event through the sponsorship of the Blain family and the AJ Blain Foundation. The gathering of friends and family of AJ featured keynote speaker Destin Sandlin, a former-rocket engineer widely known for his educational video channel Smarter Every Day.
His out-of-the-box keynote emphasized the importance of understanding each other as a fundamental leadership skill. To illustrate, he brought a strange item out onto the stage: a backwards bicycle. He explained that when the handlebars turn left, the front wheel turns right, and vice versa.
"Anyone want to try?" he asked.
Al Blain offered up a week off without pay to any employee who could get the job done!
But after several attempts and just as many failures, Destin explained that he has never found anyone able to succeed on their first try—success often takes weeks or months of practice. The backwards bicycle experiment underscored neuroplasticity and the important message of his keynote: knowledge does not equal understanding, and effective leadership hinges on the latter. You can see Destin's backwards bike experiment here: https://youtu.be/MFzDaBzBlL0
The AJ Blain Foundation is honored to carry on AJ's legacy of investing in leaders. Destin's appearance at the Leadership Event was sponsored by the AJ Blain Foundation. The Blain family provided dinner, refreshments and a band for guests to enjoy. This annual event is a key part of empowering and inspiring current and future leaders.
Thanks to those that donated to the AJ Blain Foundation at the event in AJ's honor.
AJ BLAIN FOUNDATION GIVES SEED MONEY TO RMC FOR TWO NEW PLANES
This Spring brought a new gift of flight to the students at Rocky Mountain College in the form of two brand new airplanes, bought with the help of a donation from the AJ Blain Foundation. The AJ Blain Foundation's vested interest in aviation reflects the passion AJ had for flying and continues to be a big part of his legacy.
"In step with AJ's generosity, we are honored to jump start Rocky Mountain College's process of buying these two new planes," says Bobbi Blain. "We appreciate the work RMC is doing to train future aviators and recognize these planes will take them to new heights."
"Demand for our program is way up," says Dan Hargrove, Rocky Mountain College's Director of Aviation. "These two new planes allow us to grow our program and give more students the opportunity for a well-rounded RMC education. They will be ready for great careers having been trained in the most modern cockpits available in training aircraft. This is a huge step forward for the Rocky Aviation Program."
One of the planes features the tail number "N440AJ" as a salute to AJ. Keep an eye out for it in the skies above Billings!
IN HONOR OF DAN MEYER – THANK YOU FOR YOUR DONATIONS
The AJ Blain Foundation joins many of Dan Meyer's friends and family in remembering his life and grieving his sudden loss, and we want to give a heartfelt thank you to everyone who has donated in his memory. A beloved uncle to AJ and fellow aviator for many years, Dan brought much joy to those around him. The Foundation is currently working to establish an aviation scholarship in Dan's name.
Dan passed away unexpectedly in July this year from a stroke in Boise, Idaho, while doing one of the things he loved most: playing tennis with his wife, Flori. Dan was the youngest of nine children born into the loving family of Vern and Thelma Meyer. It was during his time in the Army that Dan learned to fly helicopters and found an unexpected passion for aviation. After taking fixed-wing flying lessons from a local instructor named Jim Taylor (who generously traded Dan flight lessons for beer) Dan worked for American Airlines for many years. Dan deeply enjoyed teaching people to fly, especially his children. His latest goal was working to become a Designated Pilot Examiner to even better empower and train the next generation of pilots.
Dan's passion for Aviation was the foundation of the strong bond he had with AJ. His legacy is continued through the lives of everyone he encouraged and taught over the years and through the generous donations made in his name to be put towards making a scholarship for students pursuing aviation education and instruction.
His humor and ability to connect with everyone he met was a staple of Dan's life. He always found the best in people and his love for his wife and children was reflected in every area of his life. He was a bright light in all our lives, and will be sorely missed.
Dan was preceded in death by his father, Vern; nephews, Bart and AJ. Dan is survived by his wife, Flori; children, Daniel, Dillon, Blayne and Marin; mother, Thelma; brothers and sisters, Tom (Michelle), Tim (Terri), Monica (Dave), Maria (Pat), Theresa (Roger), Jane (Tracy), Joe (Susan) and Pat (Jackie); and numerous nieces and nephews.
In lieu of flowers, Dan's family asks you to please make donations in Dan's name to the AJ Blain Foundation at ajblainfoundation.org.
AJ BLAIN FOUNDATION AWARDS 9 SCHOLORHIPS TO DEVELOP FUTURE LEADERS
The AJ Blain Foundation awarded a total of 9 scholarships this year!
Seven scholarships for individuals to attend local Townsend Leadership Programs.
One scholarship for an individual to attend the Accelerated Relational Performance Leadership Program.
One grant to Friendship House of Christian Service for students to tour the Billings Flying Service facility, in hopes that flying might become an option for them in the future.
Lastly, did you know that Wise Wonders Children's Museum is expanding this Fall? The AJ Blain Foundation is working with the Children's Museum to bring future aviation opportunity and learning for the next generation of aviators. For more, stay tuned for our next newsletter!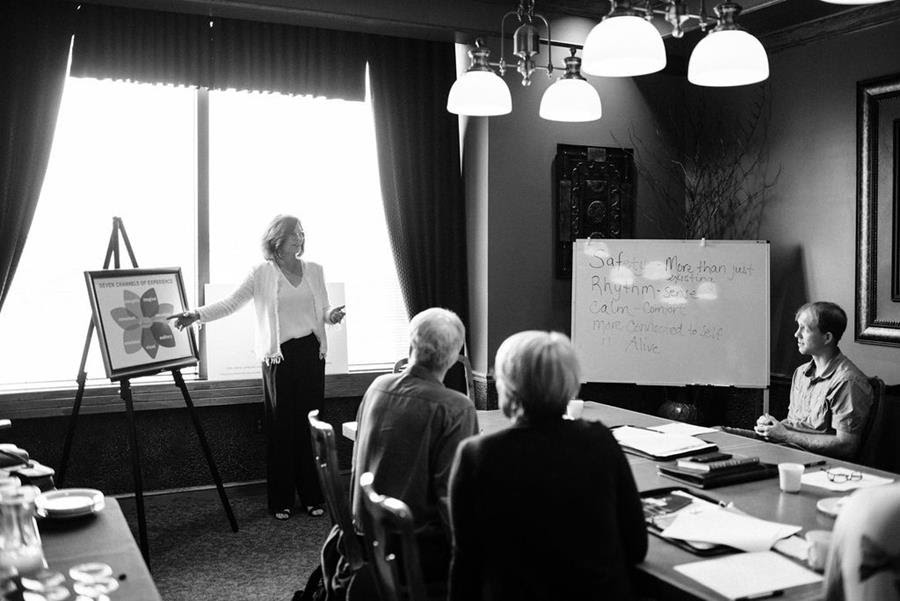 THANK YOU FOR YOUR CONTINUED SUPPORT!
Thank you for continuing to remember AJ through your support of the AJ Blain Foundation. Your generosity is equipping future leaders, students and aviators for years to come.
We love to hear your stories too! If you've been inspired to pursue a goal or tackle a new dream, write to us here: https://ajblainfoundation.org/contact/. Your stories inspire us!
Because of Friends Like You (Fall 2017 Newsletter)
November 9, 2017
Your prayers and generous support have kept AJ's memory alive — and I couldn't be more grateful!
Your loving gifts to the AJ Blain Foundation have made it possible to open up the next strategic step in extending AJ's legacy of helping other leaders discover what else is possible for their dreams.
We are excited to announce the opening of the new AJ Blain Foundation website!
Our new online home shares AJ's story beautifully – but more importantly, it will enable more leaders to find the help they need to continue their personal development in leadership, aviation, and education.
So please visit the new website and share it with your friends!
Again, I want to thank you for making this professional website a reality through your generosity to the AJ Blain Memorial Fund or The AJ Blain Foundation.
Because of friends like you, more emerging leaders will find the health they need to see what else is possible for their dreams in leadership, aviation, and education.
---
The AJ Blain Foundation Presents:
A Leadership Event with Destin Sandlin
"The Backwards Bike Guy" and developer of the YouTube Channels, Smarter Every Day and The Sound Traveler
November 3, 2018
Destin Sandlin is an aerospace engineer known for his educational video series, Smarter Every Day a science-focused YouTube channel that he launched in 2007. Since its launch, Smarter Every Day has over 5.8 million subscribers and 490 million views, making it one of YouTube's top-rated science channels. Episodes of Smarter Every Day revolve around scientific exploration and discovery. Sandlin is fascinated by flight and space, but his videos explore a wide array of other topics including the effects of hypoxia on the human brain, the curiously sturdy Prince Rupert's drop, the physics of potato guns, and the nearly-impossible-to-ride backwards bicycle. In early 2016, Sandlin was one of three YouTube personalities chosen to conduct a one-on-one interview with President Obama, after his final State of the Union address. In April 2016, Destin started a second YouTube channel called The Sound Traveler in which he employs 3D audio and GoPro footage to capture and convey the experience of visiting the world's most interesting places. In February of 2017 he added a podcast to the Smarter Every Day channel, produced with his friend, Matt Whitman, called No Dumb Questions. Sandlin received his BS from the University of Alabama, where he studied mechanical engineering, and his MS in Aerospace Engineering from the University of Alabama in Huntsville. He served as a Missile Flight Test Engineer at Redstone Arsenal, AL for 15 years. He is currently a full time PhD student in engineering at the University of Alabama in Huntsville, where he resides with his wife and four children.